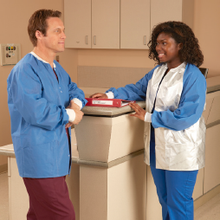 Thermoflect® Staff Warming Apparel Box of 25
IN STORE
Thermoflect® Staff Warming Apparel
Today's fast-paced surgical environment needs products that work, not products that make work. Thermoflect heat reflective technology products are simple, safe, and effective. They begin working from the moment they are applied to bank heat and help prevent redistribution temperature drop [RTD]. They use science instead of electricity and are the most efficient and cost-effective prewarming products available.
Maintaining normothermia has significant advantages for patients, hospitals, and care providers. From improved patient outcomes, reduced surgical site infections, and reduced healthcare costs — Thermoflect® can help you.
Thermoflect Heat Reflective Technology® reflects endogenous heat and prevents convective heat loss by utilizing NASA-pioneered science, instead of electricity.   
| | |
| --- | --- |
| Type: | |
| Vendor: | |
| Choose Style Color: | Jacket Silver Side Out, Jacket Blue Side Out, Vest Reversible |
| Choose Size: | X-Small, Small, Medium, Large, X-Large |
| SKU: | 5140-100 |