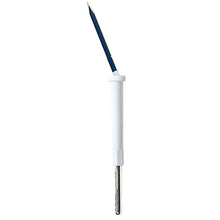 Bovie Disposable Dermal Electrode Tips Sharp
The Sharp Dermal Tip is compatible with the A800, A900, A940 and A950 Electrosurgical Generators.
This electrode utilises the standard 3/32" (2.3mm) stainless steel shaft.
Safety grip insulators combine patient and user safety with easy insertion into and removal from the surgical pencil.
The A804 and A805 electrodes are manufactured to the highest standard.
Available in
Non-sterile box of 100.
Sterile box of 50.