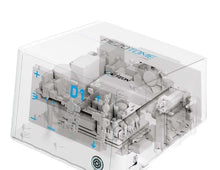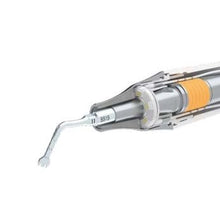 Acteon Piezotome Cube Package
Acteon Piezotome Cube Package
Package Includes:
1 CUBE LED handpiece
1 Essential kit (BS1S, BS4, SL1, SL2, SL3 & LC2)
1 dynamometric wrench
1 multifunction footswitch
1 irrigation bracket
1 handpiece holder
2 autoclavable irrigation lines
5 autoclave irrigation clips
15 sterile perforators
Clinical Benefits At Each Stage Of Your Surgery
Highly Powerful
With Newtron® technology get the automatic and continuous frequency adjustment that guarantees the level of power required whatever the load applied.
The exclusive smart assistance D.P.S.I. (Dynamic Power System Inside) continuously monitors and detects variations between major criteria during surgical procedures (clinical gesture, pressure, tissues, tips) to deliver immediate power responsiveness, only when it is needed.
According to the resistance encountered, the D.P.S.I. provides:
• Increase + 30% the power for improved cutting performance
• Decrease - 10% the power, to be safer on soft tissues
Cube LED Handpiece
• Upgraded conception based on Acteon® 6 ceramic rings giving you more power than ever.
• Lighter with perfectly balanced design giving you natural gesture, rotation free for less hand fatigue.
• Full white color LED ring for great tissue distinction and visibility in posterior areas.
• Wide range of tips with exclusive designs for clinical versatility.
• Tips are strengthened by surface treatment for excellent durability
Exclusive Tips
Each tip is designed to be adapted to patient anatomy. The exclusive range of surgical tips permits surgeons to broaden their surgical portfolio and get inspired to expand their expertise:
• Atraumatic extractions preserving the table bone
• Accelerated orthodontic treatment (Piezocision)
• Precise crown lengthening
• Predictable healing bone grafting
• Safe lateral sinus lift
• Crestal sinus lift providing better patient's acceptance
• Crest Splitting leaving the bone periosteum intact
• Orthodontic Bone Stretching (O.B.S.) offering an alternative to ankylosed tooth extraction or malpositioned implant
Give Power To Your Know-How With Newtron Technology
Acteon® Piezotome® ultrasonic power generators are piloted by the patented Newtron® technology. The advanced electronics, the handpiece, and the tips are perfectly tuned introducing maximal performance and unique clinical benefits, to tackle each surgery serenely.
• Alternation between high and low-intensity frequencies for soft tissue preservation with better tissue recovery and cell regeneration.
• Automatic frequency adjustment between 28-36kHz according to every tip shape and weight giving a maximal performance for each procedure.
• Automatic power regulation depending on the resistance encountered giving continuous vibration even in dense bone.