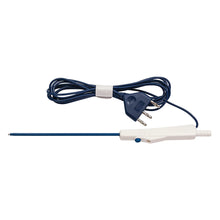 Bovie Suction Coagulator Disposable Handswitch 8Fr 3M Cable Pack/10
Bovie Medical Sterile Handswitch Suction Coagulator 8Fr 3m Cable SCH08 Pack of 10
Bovie Medical Corporation is pleased to introduce six Suction Coagulators. They are compatible with Bovie® and Aaron® generators, as well as, those of most other companies. Featuring three different diameters, flexible shaft, and hand or foot activation, these suction coagulators allow suction with or without simultaneous coagulation. These single-use devices are individually packaged sterile, ten per shelf pack.
8 Fr (2.7mm or 0.105 inches diameter)

6 Inch flexible shaft

Sterile
Individually packed
Pack of 10
Handswitch
Disposable
Cable length 3m
Can be used to replace the Valley Lab E2608-6 and the Megadyne 0042-10
Made by: Bovie Medical
Manufacturer's Product Number: SCH08
*Please note the manufacturer only provides a stock image for this product group. The product appearance may be different. The specific product details are listed in the description.