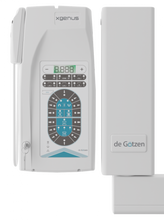 DE GOTZEN XGENUS X-RAY Intraoral X Ray Systems
IN STORE
XGenus Intraoral X Ray Systems

Xgenus and Xgenus DC are the latest evolution of the worldwide known de Götzen intraoral generators, designed for the highest level of reliability to keep the user interaction experience at the same level over time, enclosing the finest technology to guarantee high standards of image quality and beautifully designed for perfect integration in any environment.
RELIABLE TECHNOLOGY
The intraoral generators of the xgenus family pack together the years of experience of degotzen in designing technologically advanced and reliable solution for dental radiology field. The two members of the family, the DC and the AC version, are engineered to guarantee high quality beam and precise control on the exposure times, for the best outcome of any exam.
HIGH FLEXIBILITY
The different options available allows you to configure the device tailored on your needs and your preferences, wide selection of arm lengths is available as well as a full set of cone types which allow you set the shape of the beam and the source-to-skin distance, everything ensuring the best experience as always on device positioning during its operation: the arm is light enough to be positioned with one finger!
CLEAN DESIGN
The clean and simple design of the xgenus family generators guarantees a seamless integration of the devices in any environment. The interaction with the unit is outmost simple thanks to high user-friendliness of the control panel equipped with large soft touch buttons and LED lights to always have under control the status of the device.