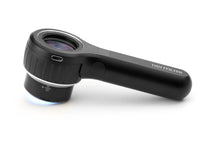 DermLite DL4W Hand-Held Dermatoscope
IN STORE
Notify me when this product is available:
DermLite DL4W Hand-Held Dermatoscope
Included in the box: DermLite DL4 device, USB charger, Nappa Leather pouch, Silicone sleeve, lens cloth, and 5 IceCaps.
Optional: Smartphone or Tablet Cover (see below)
This 4th-generation DermLite dermatoscope has the most refined vision in dermoscopy.  Designed from the ground up to be more refined in every detail with an amazingly smooth, ergonomically optimized all-aluminum design that comfortably molds to your hand, DermLite DL4 puts phenomenal versatility, the largest optics of any pocket-size DermLite, and instant on/off control right at your fingertips.
Built upon the DL3's proven (polarized & non-polarized) lighting and solid battery life, DL4 now offers two brightness levels, a larger field of view (using a ø30mm lens), enhanced imaging of deeper pigmentation with two levels of color spectrum control (PigmentBoost Plus), and is still more than 25% smaller than the previous generation.
Features:  
30mm field of view with 10x magnification

Brightness Adjustment & Two Color Spectrums.

18 high-powered LEDs with polarised and non-polarised light

Enhanced imaging of deeper pigmentation dual-mode Pigment Boost

A Rechargeable Lithium-Ion battery produces light in an extremely energy-efficient way and has a four-level charge indicator.

Read to recharge from any USB port using the standard Micro USB to USB cable (included)

Retractable glass faceplate with 10 mm markings that allow you to go between non-contact to contact mode easily

Disposable snap-on IceCaps attach to the spacer and may greatly reduce the risk of cross-contamination.

Magnetic connection to an eyepiece or smartphone/tablet adaptors

Molded belt clip, lanyard, and protective silicon cover

Warranty: 10 years (For sales after 1 July 2018)
If you are interested in having a High-powered LED with polarised and non-polarised light, elegant and compact, consider DermLite DL4 Hand-Held Dermatoscope with Pigment Boost. DermLite DL4 is simply the most capable dermatoscope available!