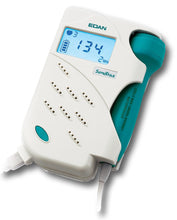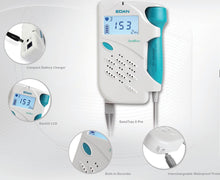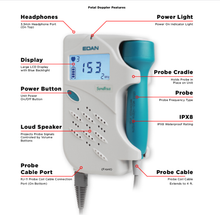 Edan Sonotrax Basic A Fetal Doppler Baby Heart Rate Monitor
Notify me when this product is available:
Edan Sonotrax Basic A Fetal Doppler with 2Mhz Fetal Probe
SonoTrax Dopplers are easy to use ultrasonic dopplers that allow mothers and health care professionals to retrieve a fetal heart rate (FHR). The SonoTrax Basic A Fetal Doppler provides caregivers with a cost-effective solution to meet routine obstetric and vascular requirements. 
The Basic A is versatile, operating the unit with 4MHz or 8MHz probes also allow for vascular diagnosis.
Sonotrax Basic A Fetal Doppler Baby Heart Rate Monitor is a high-performance model with an FHR digital LCD backlight display. These have an audio output, which can be connected with earphones or recorders. 
FEATURES
Accurate FHR detection with high-fidelity sound
Automatic and manual display of FHR on 45x25mm LCD Screen
4-hour battery life
Power-saving auto-off
Carry Case
Probe Frequency Detection
3 working modes
8Mhz or 2Mhz Vascular probe
12 Month Warranty
Fetal Doppler specifications
Display: 45x25mm LCD display
Heart Rate Range: 50 ~ 210bpm
Resolution: 1bpm
Audio Sampling Frequency: 4KHz /8KHz
Recording Length : 480s/240s
Audio Output Power: O.SW
Auto Shut-off: 1 minute
Size: 32 (Depth ) x 85 (Width ) x 138 (Height) mm
Weight: 290±5g ( including one battery)
If you are interested in the benefits of an excellent sensitivity complete interchangeability, and high durability, consider the Edan SD3 Ultrasonic Pocket Fetal Doppler Baby Heart Rate Monitor, an ideal for routine fetal heart rate detection by clinicians. It also works with AA Battery.