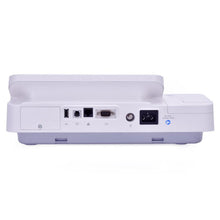 Mindray BeneHeart R12 12-channel Electrocardiograph
IN STORE
Mindray BeneHeart R12 12-channel Electrocardiograph
The Mindray BeneHeart R12 is a 12-lead, resting ECG with an 8 inch colour TFT display, characterised by its user-friendly operator interface. The ECG print-out can be printed using the integrated thermal printer, but it is also possible to export the data to a PC or directly to an external printer. For this reason, the BeneHeart R12 is delivered with various USB connections.
The Mindray BeneHeart R12 is equipped with the world-renowned Glasgow, 12-lead analysis system that evaluates the ECG data according to age, gender and ethnic background. In the case of critical values, one of the six warning signals enables treatment to be quickly implemented.
If necessary, the ECG can be recorded without entering all patient data, beforehand. This allows for automated re-analysis, which is always carried out when relevant patient data (e.g. gender or age) is changed or entered for the first time.
Price ex GST.
 
Product details for the Mindray BeneHeart R12
12-lead resting ECG machine
8" Colour TFT backlit LCD display (touch screen)
With integrated thermal printer (prints in A4 format)
PDF export via USB as 12-lead printout
Internal memory for approx. 800 ECG's
ECG's can be saved on a USB stick and transferred to a PC
With lithium-ion battery (3.5 hours battery life or approx. 400 ECG printouts on one battery charge)
Includes measurement and interpretation function
User-friendly operator interface
Modern soft-touch hotkeys
Standard keyboard for entering patient data
Patient data can be called up from the working list
Special cable design prevents the cable from wrapping and twisting
Full print preview directly on the display
With ECG analysis (world-renowned, Glasgow 12-lead analysis system)
Automatic diagnosis with V4R electrode placing (ideal for paediatric)
Automated new analysis after changing patient demographics, enables quick production of ECG printouts (patient information can also be entered later)
Digital pacemaker recognition
Very quick prep time (7 second start up time)
Paperless workflow possible
Very light (4.9kg)
Dimensions: 12.8 x 36.5 x 30.5 cm (H x W x D)
Delivery Contents with the Mindray BeneHeart R12:
Mindray BeneHeart R12 ECG machine
Patient leads, 10-pole
6 Chest, suction electrodes
6 Button adapters
4 Extremity, clamp electrodes
2x50 adhesive electrodes
100 sheets of thermal paper
Power cable
Operating instructions