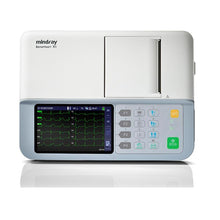 Mindray BeneHeart R3 Electrocardiograph
Mindray BeneHeart R3 Electrocardiograph
Features
3/5/12 lead ECG
Uses the Glasgow ECG analysis algorithm
5" high-resolution colour display
Automatic pacemaker detection
Weighs only 1.2kg for easy portability
Paper-saving features include preview option, re-analysis and pdf report output over a network
ECG paper unfolds onto the writing pad to make documentation quick and easy
XML reports can be downloaded to external storage
Stores up to 800 ECG reports on the internal memory
Connect to an external printer to capture reports on full A4
Li-ion battery with 6 hours of continuous operation
Optional Wi-Fi
Optional roll stand and carry bag

Price ex GST
Reliable Analysis
Mindray BeneHeart R3 utilizes the University of Glasgow ECG analysis algorithm, one of the world-leading resting ECG interpretations with 40 years of history.
The Glasgow algorithm is the first to be based on specific variables, including age, gender, race, medication, and class in order to maximize the accuracy of the ECG interpretation.
On the report, a headline may highlight one of several "critical value warnings" to alert medical attendants of findings that need immediate attention.