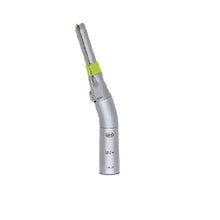 W&H S-9 LG Surgical handpiece 1:1
W&H S-9 LG Surgical handpiece 1:1
Surgical Handpiece with lever chuck, mini LED+, and generator.
Coupling system: ISO 3964 (DIN 13940)
1:1, angled, can be dismantled, for surgical burs and cutters Ø 2.35 mm (also Stryker system),
L = max. 45 mm, external spray, maximum drive speed 40,000 min-1
Indications
Apical resection, osteotomy, apical trepanning, bone modeling.
[Prices Ex-GST]